Welcome to Kibler Outfitting & Charter Fishing, owned and operated by Myron and Mary Beth Kibler.
World Record Saugeye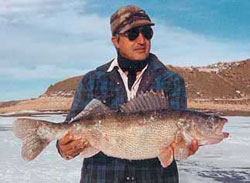 Hunting and Fishing Outfitter Myron Kibler with his World Record Saugeye at 15.66 pounds. Caught through the ice on Jan. 11, 1995, on Fort Peck Lake near Devils Creek. The record still stands.
Drop Us a Line
Feel free to contact us with any questions you might have about planning your outdoor adventure.