A Gift For Someone Who Has Everything!
Christmas, Anniversary, Birthday, Valentines day gift? Surprise the hunter or fisherman with a fully guided hunting or fishing trip of a lifetime.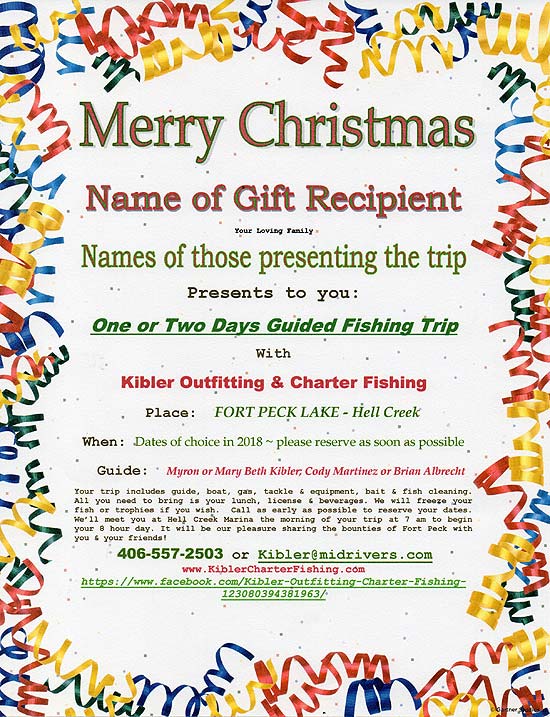 Here's how it works:
Send a deposit for the desired trip, via mail or we accept visa or master card. We will send you a certificate to present to your lucky hunter or fisherman, brochures and other information, as well as a confirmation letter. When they receive the gift, they make arrangements for their trip on dates convenient to their schedule. Pay the balance of the trip prior to or on the date they take their trip.
Options:
What's included on a fishing trip:
A fishing trip for one or many days on Fort Peck lake. Fish Fort Peck Lake with a professional licensed guide, boat, gas, tackle and bait provided. Your guide will fillet your catch or prepare your trophy to transport to your taxidermist. All you need to bring on the trip is your lunch/beverages and fishing license. Lodging and meal arrangements additional and we request that you make those arrangements. We'll supply some suggestions for your convenience.
Or:
Surprise that special person with the hunting trip of a lifetime! A fully guided, full service hunting memory on private land for Antelope, Deer or Elk. Meals and lodging as well as quality, abundant game! Guides will clean and cape your game, but meat processing is additional. Licenses aren't included in the rates, however we will help you apply for the licenses required.