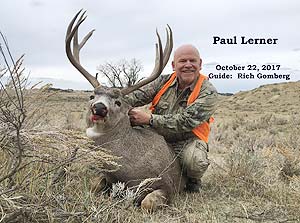 Your full service, fair chase hunt for elk, mule deer and antelope takes place on 50,000 acres of private and BLM lands, with our experienced guides and is enhanced by home cooked meals and a comfortable bed. Good conservation practices insure the best quality game possible. See for miles across our rolling hills, then dip abruptly into steep tree-lined ravines.
Begin each day of your hunt within the solitude of our camp composed of two mobile homes which assure a relaxed, uncrowded atmosphere. Home cooked meals include your favorite dishes created in our ranch kitchen.
Four-wheel drive vehicles are used to get to hunting areas, then the hunt is aided by spotting scopes. As each trophy is taken, your licensed guide will cape, care for and store that trophy for the taxidermist of your choice.
Local meat processing is available. Conclude the day's adventures and return to the ranch to relax, recount the hunt and enjoy a hot, home-cooked supper. Also, touch base with home and report your success using the camp's wi-fi connection to the Internet.
Hunts are guided professionally on a 2 hunters-per-guide ratio. The best antelope hunting is early in the season as they begin shedding their horns after hard frosts. Combination deer/antelope /bird hunts normally produce average-sized trophies but allow more game to be taken. Due to the deer rut beginning in mid November, the later deer hunts usually result in massive trophy horns being harvested.
Our private lands in Missouri River Breaks country support a great trophy elk population. However, obtaining a rifle permit is difficult because we are in a special drawing area. Exclusive hunting areas such as ours do benefit archery elk hunts and permits are more easily available.
When choosing your hunt dates, choose your priorities and select your dates accordingly. Give Myron or Mary Beth a call at (406) 557-2503. We'll gladly fill in all the details about your planned hunt. Please call for references, charts showing previous season successes, licenses and the best time to hunt.