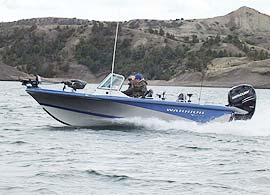 Myron Kibler
I'm Myron Kibler, your outfitter and guide. I was born and raised in ranching so hunting and fishing have always been a part of my life.
In 1983 I became a licensed outfitter, expanding our ranching operation to include sharing our game with other avid hunters. Through the years we have found the perfect mesh between hunter numbers and animals which keeps our game great and our hunters enjoying fantastic hunting as well as a relaxed atmosphere in camp. We enjoy a 90% return rate of guests and consider a returning guest the best compliment we can receive.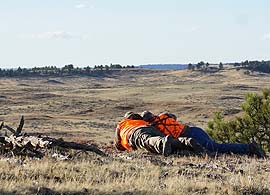 Fishing is a pastime of youth that carried over into my adult years. In the early years it was fishing from river banks or on stocked reservoirs. In 1993, I expanded to include charter fishing on Fort Peck Reservoir. We spend May – July at Hell Creek, where we operate our charter services on Fort Peck Reservoir. I enjoy the challenge of fishing and the comradery of my guests. My boat is a 2017 model 203, Warrior, 20′ long, equipped to give us the best possible opportunities and comfort while fishing.
I design my own jigs which I hand mold and paint. They sport a strong red sickle hook, a two-toned body of white topped with a metallic automotive paint color, prism eye and clear top coat enhanced with glitter.  We've added a flasher jig, that sports a size 0 hammered nickel blade. They are by far the brightest jig you will ever fish with and the proof is in the catching!
I would enjoy spending time with you whether it be during hunting season or summer fishing. I also recommend any of our guides to take you to fantastic fishing, trophy game animals, and to show you a great time as well.
---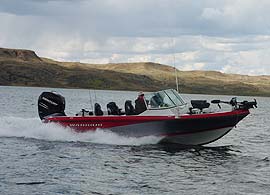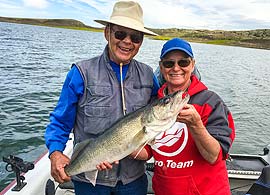 Mary Beth Kibler
I'm Mary Beth, Myron's wife, camp cook, marketing director and fishing guide.
I grew up on a ranch out of Miles City, so a lot of what we do is an extention from that basis. We have two children, Misty & Rick and their spouses Jason and Melissa are very special to us. We enjoy time spent with our grandkids, Rebe, Raelyn and Eric.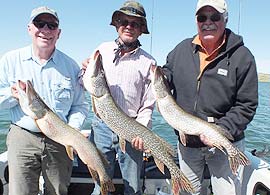 When you call to plan your hunting or fishing trip, I am most likely the voice that will share information and help you make your plans and reservations. I am also your cook during your stay while hunting with us and I enjoy preparing meals for you, welcoming you and making you feel at home with us!
Everything we do in life is a preparation for where we are now. I began guiding fishermen in 2000, and enjoy sharing the joys of the experience with others. Nothing is as rewarding as taking a group of ladies who are just getting into fishing, and making it exciting for them! While catching fish is our misson, having a lot of fun is most important to have a successful day on the water.  You'll love fishing from the "Ragin' Lady", my 2017 203 Warrior boat, with all the bells and whistles!
I like to sew and cook, but I love to fish and am a new enthusiast of shooting. Come join us and spend time making some special memories.
---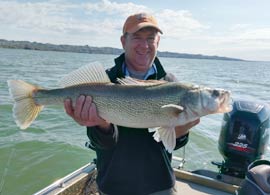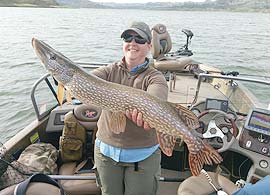 Brian Albrecht
Greetings from North Central Montana! I'm Brian Albrecht and I've been guiding for Kibler Outfitting forever. I am a native Montanan and spent much of my youth fishing on Fort Peck Reservoir. I am an avid outdoorsman and when I'm not on the water fishing for Northern and Walleyes or whatever is biting you will find me in a goose blind or tracking big game.



I participate in the Montana Walleye circuit and have multiple rankings from these tournaments along with several championships. I live in Havre with my daughter Olivia and she loves to spend many hours on the boat fishing and enjoying Montana's great outdoors with me.
I enjoy taking clients out for a great fishing adventure and there's nothing better than when we hook the big one! Step aboard my 620 ranger, the prettiest boat on Fort Peck for a summer of fishing and fun as I guide you around Fort Peck Reservoir.
---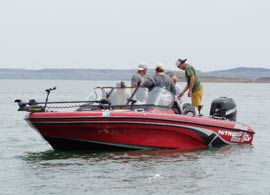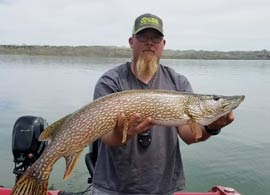 Ben Powell
I'm the ninth out of 10 children who all grew up fishing and loving the sport. I'm born and raised Montanan, calling Billings my hometown, but we live close by in Shepherd. Tasha Hageman Powell, from Jordan, Montana, became my wife in 2000 and we're blessed with four kids; two boys and two girls. Our kids are involved in sports where they excel to their fullest abilities. We're giving our kids the tools to be strong, self-reliant people with good work ethics and integrity. We enjoy spending weekends fishing and spending time with family and friends in our Hell Creek cabin.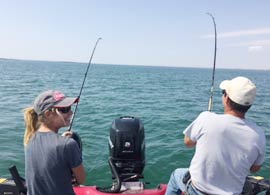 Having the drive and vision to create our business, All Action Construction, means believing in your dreams enough to take chances in life. The stability of my business, also allows me the freedom to explore my newest chapter in life as your Fort Peck Lake fishing guide. The reason I decided to become a guide is the simple life theory. I love helping and watching everyone be successful, having fun while catching fish from my boat. I'm looking forward to my time with you, making memories, establishing lasting friendships with my clients.
---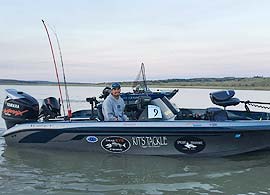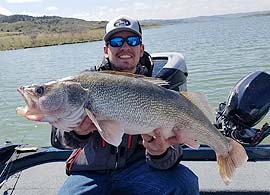 Cody Martinez
My wife, Savannah & I live in Winnett, Montana with our three beautiful kids. Born and raised here in Montana, hunting and fishing are my lifetime passions. Growing up, I fished for whatever would bite my hook and had a blast doing it. I began targeting mainly walleye about 10 years ago and then became addicted to it.
I started fishing the Montana Walleye Circuit (Fort Peck Series) in 2014. That first year, I won the circuit and took Angler of The Year, as well as Team of The Year honors. It was a year I'll never forget! Ever since then I just can't get enough of it!
As soon as I complete the Coast Guard licensing requirements,  I will join the Kibler fishing team, serving fishing guests. I'm looking forward to meeting new people, sharing knowledge, catching all species Fort Peck offers, as well as trading fishing stories with each and every one of my clients. I am excited for all of the wonderful experiences the 2018 season offers us!
---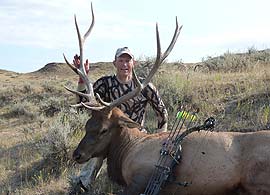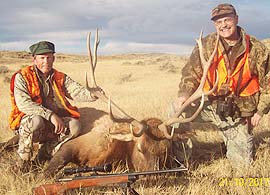 Steve Downs
I have hunted big game in Montana since the age of 12. I moved to Jordan in August 1998. My wife Nicole and I were married in 1999. We have two children, Nathan and Melissa.
I am an avid rifle hunter, bow hunter, and will use a pistol on occasion. I am currently employed by the Montana Highway Patrol and stationed in Jordan. I have been involved with the local 4-H shooting sports program since 2000. I have been a volunteer hunter education instructor since 1988.
In 2007, I opened my own gun shop and started guiding on a part time basis. Currently I am guiding for two different outfitters in Garfield County. My guiding career began because I got to "tag-a-long" on someone else's guided archery antelope hunt. Turned out I was more of a help than a hinderance that day.
I put big game animals into three different categories:
Dinks – too small let them grow up
Shooters – it is a respectable animal worthy of shooting
Give me your gun – I'll shoot him if you don't!!
---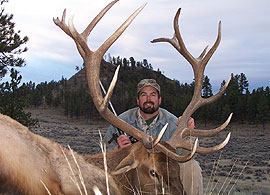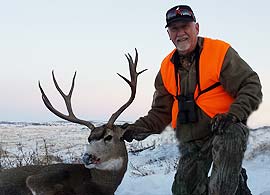 John O'Connor
Greetings -I was raised on a ranch in the Sand Springs area. We raised sheep and hunted predators out of necessity, and game animals for the meat, and both for the fun. I was previously in Law Enforcement and am now in the process of leasing my parents farm in the Brusett, MT area.
I started guiding for Kibler Outfitting in 2009 and have two years previous experience with other outfitters. I am diligent in my efforts to provide you with a positive hunting experience. You can count on me being honest with you, and I appreciate you being honest with me.
---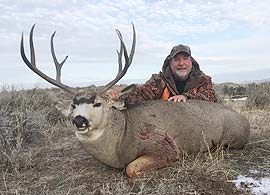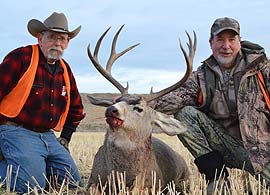 Rich Gomberg
Hi Folks! I am Rich Gomberg, and I began hunting the Jordan, Montana area some 20 odd years ago as a client of another outfitter, then I guided for that outfit for 15 years. I consider Jordan my second home. I joined the Kibler team three years ago and feel quite at home there, too.
Melville, New York is home, where I am a Home Improvement Contractor and Pyrotechnician (fireworks tech). Being an independent business owner allows me to come to Montana during the hunting season to pursue my first love, hunting. There is nothing more challenging and rewarding than pursuing elk and, yes, antelope with archery equipment. Archery hunts are my specialty, but I enjoy matching wits with all critters and putting you in position to take that trophy of a lifetime, during rifle season as well. I consider myself to be truly blessed to take something I am so passionate about and turn it into a career. I get to share some of the most amazing outdoor experiences with other hunters. I will give you my best and expect my clients to do the same in return. It makes for some fantastic success, memories and great laughs throughout the week we spend together.
When called upon to pitch in as camp cook, I make a mean pot of chili and add a culinary flavor that differs from most Montana fare. Going the extra mile for my outfitter and clients provides a special bond. I hope to spend time with you hunting with Kibler Outfitting soon.