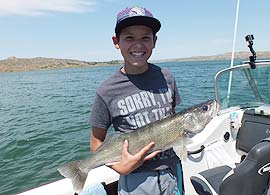 Your Fort Peck Lake fishing trip begins at Hell Creek, 25 miles north of Jordan, MT at 7 a.m. The fishing is best from May-July, when walleye, northern pike and smallmouth bass are most active.
Hell Creek State Park provides a camping area. The Hell Creek Marina has cabins for rent. Motels and other services are located in Jordan.
Fort Peck is on the leading edge of popularity among fishermen and the 134-mile long lake offers supreme scenery and wildlife.
The lake boasts a large variety of fish. Smallmouth bass, walleye, sauger, northern pike, freshwater drum, channel catfish, lake trout, perch or crappie may appear at the end of any cast. Fort Peck is the source of the world record saugeye, sauger and smallmouth Bass, as well as many previous state record walleye.
All in all, it's one of the great fishing adventures in the lower 48 states that virtually anyone can enjoy, as long as you've got the boat, motor, tackle and the expertise of a good guide to show you how it's done.
Bring a 16-32 GB memory card or thumb drive and we'll be happy to share our pictures and videos from your fishing trip.